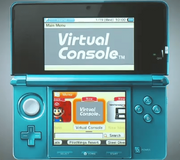 On September 29, 2010,
Virtual Console
for the Nintendo 3DS was announced. It is similar to the Virtual Console for
Wii
which allowed players to download games from past consoles and play them on the console, except for the fact that it will have
Game Boy
,
Game Boy Color
, and classic games (from past Nintendo consoles), as well as games from third-party handheld devices to download. The classic games are playable in 3D, by holding SELECT while loading the game. It was released in a
system update
on June 7th.
Games
Super Mario Land (Game Boy)
The Legend of Zelda: Link's Awakening DX (Game Boy Color)
Avenging Spirit (GB)
Fortified Zone (GB)
Columns (Sega Game Gear) [1]
Dragon Crystal Shirani's Maze (SGG)
The GG Shinobi (SGG)
Sonic Drift 2 (SGG)
Sonic Tails 2 (SGG)
Bonk's Adventure (Turbo-Grafx 16)
Radar Mission (GB)
Donkey Kong (GB)
Kirby's Dream Land (GB) [2]
Baseball (GB)
Game and Watch Gallery (GB)
Mario's Picross (GB)
Super Mario Land: 6 Golden Coins (GB)
Metroid II: Return of Samus (GB)
Source for the past two: [3]
TETRIS (GB)
Tennis (GB)
Golf (GB)
PAC-MAN (GB)
Qix (GB)
Blaster Master Enemy Below (GBC)
Super Mario Bros. (NES)
Sonic the Hedgehog Triple Trouble (Game Gear)
Shinobi (GG)
Dragon Crystal (GG)
Game & Watch Gallery 2 (GBC)
3D Classics
Excitebike (Nintendo Entertainment System)
Tennis (NES)
Xevious (Arcade)
Urban Champion (NES)
TwinBee (NES)
Kid Icarus (NES) [4]
Kirby's Adventure (NES) [5]
Kid Icarus (NES; as Kid Icarus: Uprising preorder; regular in Japan and Europe) [6]
Ambassador Program
When Nintendo announced that the Nintendo 3DS would be getting a price cut in several regions, effective August 12th, they simutaneously announced that any customer that purchased the 3DS before the price cut takes effect would be receiving 10 free Nintendo Entertainment System games, and 10 free Game Boy Advance games, provided that the owner visited the Nintendo eShop before 11:59 PM EST on August 11th. Nintendo called this the Ambassador Program. [7]
The NES games were available to the Ambassadors on September 1, 2011. Nintendo has plans to release updated versions of these games in the future, which will have to be paid for by non-Ambassadors, but will be free for Ambassadors. Nintendo has no current plans to release the GBA titles to the general public anytime soon. The last 5 NES games were revealed in a Tweet sent by Nintendo of America. [8]
Super Mario Bros. (NES)
Donkey Kong Jr. (Arcade/NES)
Balloon Fight (Arcade/NES)
Ice Climber (NES)
The Legend of Zelda (NES)
Wrecking Crew (NES)
NES Open Tournament Golf (NES)
Yoshi (NES)
Metroid (NES)
Zelda II: The Adventure of Link (NES)
Nintendo of Japan later revealed the full list of Game Boy Advance titles on December 14, 2011, and that they would be released two days, on December 16. [9] [10] Due to differences in time zones, regions such as Australia and Japan received the games prior to North America and Europe.
F-Zero: Maximum Velocity (Game Boy Advance)
Super Mario Advance 3: Yoshi's Island (GBA)
The Legend of Zelda: Minish Cap (GBA)
Fire Emblem: The Sacred Stones (GBA)
Kirby & the Amazing Mirror (GBA)
Mario Kart: Super Circuit (GBA)
Mario vs. Donkey Kong (GBA)
Metroid Fusion (GBA)
Wario Land 4 (GBA)
WarioWare, Inc.: Mega Microgames (GBA)
References
med in
Community content is available under
CC-BY-SA
unless otherwise noted.