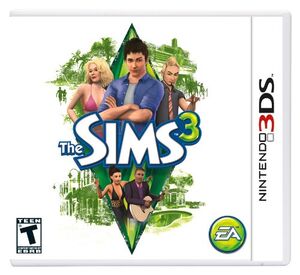 The Sims 3 is one of the Nintendo 3DS launch titles, and an installment in the best selling Sims series.
Gameplay
The Sims 3 for Nintendo 3DS is a life simulation game. Create your sim family, then play in a large, 3D town. Control your Sim's lives and bring success or failure into your family. You can get a job, go to school, make friends and much more.
Features
- Live in a full 3D town
- Get a job
- Become an astronaut, mayor or even a rock star
- Use Karma Powers to change your sims lives
Karma Powers
Karma Powers can be used to make your sims lives better or worse. You can make them rich, summon ghosts, create earthquakes and more.
StreetPass
The use of StreetPass in this game is about making a town with the people you find on street, for example:
When walking in front of a person with a 3DS and the game installed, the 3DS Rapidly interchange data, and a new house is added to the town.
Some if this features make Joystiq consider it to be "a fairly pedestrian port."
Reception
Images
References
Community content is available under
CC-BY-SA
unless otherwise noted.