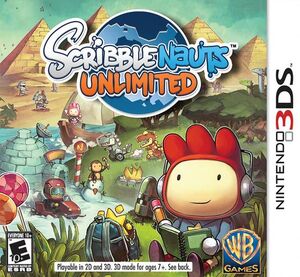 Scribblenauts Unlimited is a game for the Nintendo 3DS and the fourth installment in the Scribblenauts series. It was announced at E3 2012 to be coming to the system and the Wii U. Developed by 5th Cell and published by Warner Bros. Games, the game was released November 13, 2012 in North America, and will be released in 2013 in Europe. [1] [2] [3]
Gameplay
Players explore an open universe consisting of 41 levels with over 50 starites and over 500 starite shards, accounting for 20+ hours of gameplay. Previously summoned objects can be stored in Maxwell's "magic backpack" for easy access and future use.
StreetPass will be used to exchange creative solutions for puzzles used to other players. Merit Board: Each world comes with a comprehensive list of hints, including the new "Starite Vision" helper highlighting all nearby starites and starite shards. [4]
Reception
Gallery
References
External Links
Community content is available under
CC-BY-SA
unless otherwise noted.