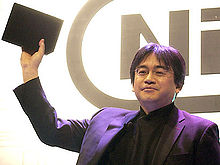 Satoru Iwata is the President of Nintendo of Japan.
Personal Life
Satoru Iwata was born in Sapporo, Japan on December 6th 1959. From childhood, Iwata was interested in video games and worked for HAL Laboratories as a programmer. During his time at HAL, he helped create games such as Kirby, and Earthbound until he became president of the company in 1993. In 2000, Iwata began his work for Nintendo, and in 2002, Iwata became the Nintendo president.
Career
Since becoming the president of Nintendo, Iwata has done work on many games like The Legend of Zelda, the Mario series, and more. But he is most known for his work on the Animal Crossing series. He has also done work on the Wii console, and the Nintendo DSi system. Iwata currently heads up an interview column on Nintendo's Website which interviews lead designers of games such as Shigeru Miyamoto. Recently, Iwata revealed the Nintendo 3DS at E3 2010 as well as Kid Icarus: Uprising. Iwata is also one of the founders of Project Sora which is the developer for Kid Icarus: Uprising.
Over the years Satoru Iwata has been known as a key figure for Nintendo. He is also known for being in the world's top CEO's list by multiple publications. From the Animal Crossing, to the Nintendo DS, and from HAL Laboratories, to the Nintendo 3DS. Satoru Iwata definitely has a fantastic career. One of is top career moments was during the revealing of the Nintendo Wii console at E3 2005 (see picture to right). President Iwata will be remembered as one of the greatest Nintendo presidents.
Community content is available under
CC-BY-SA
unless otherwise noted.