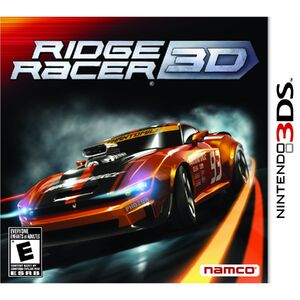 Ridge Racer 3D is one of the launch titles for the Nintendo 3DS and an installment in the best-selling Ridge Racer series. It is one of two racing games available at the system's launch, the other being Asphalt 3D.
Gameplay
Reception
Ridge Racer has received positive to mixed reviews.
Joystiq gave it the highest score of "90," saying "I have to hand it to Namco-Bandai: With the exception of omitting online multiplayer, it really put together a solid entry in the series for the 3DS launch, one that's easily high on the list of best titles available for the new system." [1] Official Nintendo Magazine, which gave it an "87," states "The lack of any online features is a crying shame, but for 3D racing it's fantastic." [2]
Nintendo World Report gave it an "85," simply saying it was "a great launch game that offers fun gameplay and an awesome use of 3D." [3] IGN also gave it an "85," the reason being "It doesn't add anything new to Ridge Racer's well-worn formula, nor does it do anything particularly daring with it, but the 3D overhaul combined with a surplus of content are enough to blow away the dust that's settled on the series over the years." [4]
Game Informer, who gave it a lower "73," states "Ridge Racer 3DS is a perfectly competent racer, it's just one that doesn't do anything new. If you prefer an old-school arcade racing experience (like Daytona 500 or Sega Rally) over more realistic alternatives (Forza, GT), then this should satisfy early 3DS adopters." [5] The most critical review, from Gaming Age which gave it a "50," says "It's hardly groundbreaking or exceptional in any way, for me it felt like the very definition of average." [6]
Images
References
Community content is available under
CC-BY-SA
unless otherwise noted.