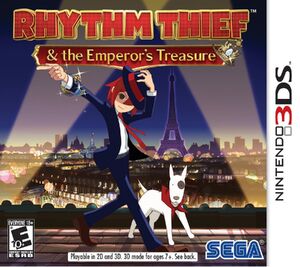 Rhythm Thief & the Emperor's Treasure [1] (known in Japan as Rhythm Thief R: Emperor Napoleon's Legacy) is a rhythm adventure game for the Nintendo 3DS. Developed and published by SEGA, it was released January 19, 2012 in Japan, April 5 in Europe, April 12 in Australia, and July 10 in North America. [2] [3] [4] [5]
A port of the game will be released for iOS in Japan in winter 2012. [6] [7]
Gameplay
Rhythm Thief is a rhythm adventure game where the player takes the role of Raphael, a thief who travels through Paris stealing rare and valuable treasures while simultaneously trying to find the explanation behind his father's disappearance. The rhythm portions of the game come into play as he attempts to break in and escape from buildings. The gyroscope is also used in gameplay. [8]
In the game, the player able to collect medals by clearing rhythm games and by checking suspicious places. These medals allow one to buy cutscenes previously seen and items to help them out in the game. Friends can also be challenged in local multiplayer per local wireless connection and Download Play.
Reception
The game has received generally favorable reviews. Cubed3 gave it a 90, saying "SEGA has crafted a wonderful first attempt at the rhythm genre on Nintendo 3DS with Rhythm Thief and the Emperor's Treasure by mixing up the standard fare totally, slotting in all sorts of fantastic and addictive mini-games, a wealth of gorgeous presentation, and some absolutely amazing, toe-tapping tunes, plus a heap of impressive voice acting." [9]
Official Nintendo Magazine gave it an 88, stating "[It's] a brilliant adventure whose shortness is its only drawback. Well worth a look." [10] Nintendo Power gave it an 80, saying "The gameplay itself is pretty standard genre fare, consisting primarily of button taps and touch-screen swipes. But the way it's packaged makes a big difference." GameSpot, who gave it the same score, called it "an enchanting rhythm adventure that really brings the funk." [11] Eurogamer also gave it an 80, and said "The Emperor's Treasure doesn't just have rhythm: it also has soul. " [12]
Famitsu scored the game 32/40. [13] Nintendo Life stated it was "a title overflowing with charm and verve, with a style that can entertain children and adults alike. It has a couple of missteps, the biggest of which is the occasional use of gyroscope controls, while simple puzzles and missing object searches don't quite match the title's overall quality." [14] IGN called it "a game with a song in its heart and romance in its soul, a sweet-natured slice of old-fashioned escapism underpinned by taut and satisfying rhythm-action systems. If a hopeful tilt at a sequel in its closing moments seems rather naively optimistic, you can hardly blame SEGA for dreaming." [15]
Gallery
Videos
References
External Links
Community content is available under
CC-BY-SA
unless otherwise noted.