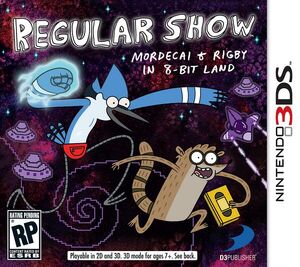 Regular Show: Mordecai and Rigby In 8-Bit Land is an upcoming game for the Nintendo 3DS, based off of the Regular Show animated series. Developed by Wayforward Technologies and published by D3 Publisher in North America and Namco Bandai Games in Europe, it will be released fall 2013. [1]
Gameplay
Mordecai and Rigby have been transported into their favorite video games, and must use their skills and unique abilities to traverse the various challenges to escape and get back home. [2]
The game switches between three modes: a platforming mode, a side-scrolling shooting mode, and a top-down shooting mode. Players can switch between these modes and between the two playable characters, the titular Mordecai and Rigby, who each have their own special abilities -- for example, Mordecai can perform double jumps and Rigby can fit into tight spaces. [3]
Gallery
Videos
References
↑ http://www.siliconera.com/2013/05/14/new-adventure-time-ben-10-and-regular-show-games-in-development-for-3ds-and-consoles/
↑ http://nintendoeverything.com/121735/new-adventure-time-game-announced-for-wii-u-and-3ds-regular-show-and-ben-10-omniverse-2-official/
Community content is available under
CC-BY-SA
unless otherwise noted.