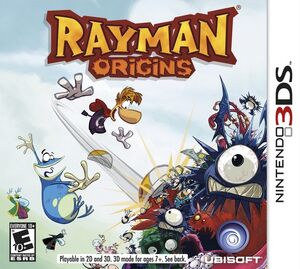 Rayman Origins is a side-scrolling game for Nintendo 3DS, an installment in the Rayman series, and the second Rayman game on the 3DS after Rayman 3D.
The game, developed and published by Ubisoft was originally released for Wii and other consoles in November 2011. It was released in Europe on June 5, 2012, Australia on June 14, July 19 in Japan, and November 6 in North America. [1] [2] [3] [4] [5] [6]
Development
Previously, when one typed in the words "Portage de Rayman Origins sur 3DS," which roughly translates to "port of Rayman Origins for the 3DS", on Google. They would see that it was once listed on the DoYouBuzz.com page of Mark Arif Yassine Ancheta, who works for Ubisoft Casablanca. The phrase has since been removed. This hinted at Rayman Origins being on 3DS. [7] The game was later officially confirmed in an issue of Nintendo Power. [8]
Gameplay
Players will control the main hero Rayman, Globox and two teensies, as they travel through several levels to rescue Electoons and fight Darktoons and other evil creatures that have infected the Glade of Dreams.
Reception
Gallery
References
Community content is available under
CC-BY-SA
unless otherwise noted.