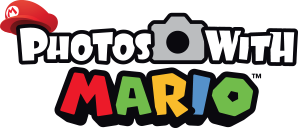 Photos with Mario (known in Japan as Photo Together with Super Mario) is a photography application for the Nintendo 3DS, released through the Nintendo eShop. Developed by Nintendo EAD, it was released in Japan on April 23, 2013 in Japan and in North America on May 18, 2014, though the latter's eShop page incorrectly listed its release date as July 9, 1981 at launch. [1]
The first set of cards, featuring a Goomba, Mario, and Peach, was released in Japan on April 23, bundled with eShop prepaid cards for 1000¥, 2000¥, and 3000¥, respectively; this set was released in North America on May 28, available exclusively at Target for $10 each. [2] [3] The second set of cards, featuring a Koopa Troopa, Luigi, and Bowser, was released in Japan on June 29 for identical price points to the former set. [4]
Gameplay
Players use the 3DS's camera and augmented reality capabilities to make Mario characters appear on specially-themed cards, which can be photographed. The application also features the ability to drag the characters away from the cards and place them elsewhere for a photo. The player can also cause special effects to happen on-screen, such as blowing bubbles and causing a shower of stars, and changing the scene's lighting with the use of several buttons.
Gallery
Videos
References
External Links
Community content is available under
CC-BY-SA
unless otherwise noted.