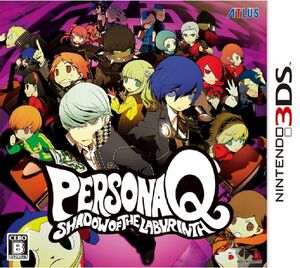 Persona Q: Shadow of the Labyrinth is an upcoming role-playing for the Nintendo 3DS. It is a mash-up of the Persona and Etrian Odyssey franchises, mixing EO's style of gameplay with Persona's characters, settings, and enemies. Developed and published by Atlus, it was released in Japan on June 5, 2014. [1] It will be released in North America on November 25, and in Europe, where it will be published by NIS America, on November 28, in both first-print limited editions and a "Wild Cards" premium edition. In Europe, the game will be published by NIS America and released during 2014. [2] [3] [4]
Story
During the Yasogami High School culture festival, a clock tower appears in the school yard and the heroes of Persona 4 hear the echo of a ringing bell. The sound of that bell reaches the world of Persona 3, and its heroes, who were fighting Tartarus, are suddenly transported to Yasogami High School and trapped. To return to their original worlds, the characters from Persona 4 and Persona 3 must try to get back the lost memories of new characters Zen and Rei, who seem to hold the key to this incident, and go dungeon-crawling to fight shadows. [5]
Gameplay
Players control a team of five characters from Persona 3 and Persona 4 and explore labyrinths, fighting enemies with an Etrian Odyssey-like command-based battle system. [6] Depending on whether 3's SEES crew or 4's Investigation Team is chosen, dialogue will change and story events will focus on one or the other. [7]
Development
A Shin Megami Tensei: Persona title was first hinted at in a list of third-party games for the 3DS at E3 2010. [8] The game was officially announced on November 24, 2013 during a Persona-themed NicoNico stream, alongside Persona 4: Dancing All Night for PlayStation Vita, and Persona 4 Arena Ultimax and Persona 5 for PlayStation 3.
Reception
Gallery
Videos
References
External Links
Community content is available under
CC-BY-SA
unless otherwise noted.