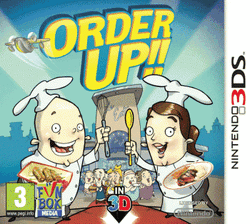 Order Up!! is a cooking simulation game developed by SuperVillain Studios and published by Ignition Entertainment for the Nintendo 3DS through the Nintendo eShop in North America and in retail form in Europe. The original version, Order Up!, was released for the Wii while the enhanced port, Order Up!!, was released for the PlayStation 3 and Nintendo 3DS. The game also saw release on iOS as Order Up!! To Go. The Nintendo 3DS version was released on December 9, 2011[1] in Europe and June 21, 2012 in North America. A free demo is also available in the Nintendo eShop.
Gameplay
The player takes on the role of a chief who just landed in Port Abello. The player decides to buy his/her own diner however being the proud owner of this restaurant is not the game's sole objective. The Fortified Chef Competition has arrived in town and winning it would launch the player's character to the center of the culinary stage.
Order Up!! sees the player purchasing and managing new restaurants and trying to earn a five star rank at all of them. For example, impressing a food critic or unlocking new recipes are ways of such a rank. Some customers that dines at the player's restaurant will have special requirements for their orders which means the player will have to acquire new seasonings and spices.
Similar to that of the Cooking Mama series, Order Up!! has a cooking portion that uses the 3DS's touchscreen. However, this game places more emphasis on speed, multi-tasking, and time management to ensure multiple dishes are delivered to the customer on time. The game also features mini-games like washing dishes.
The 3DS version has features that are exclusive to its version and the PlayStation 3 version:
Turn-based multi-player option
One additional restaurant added
Higher resolution textures, enhanced scene lighting, and other additions and alterations
New characters and music with re-sampled audio
Gallery
External Links
References
Community content is available under
CC-BY-SA
unless otherwise noted.