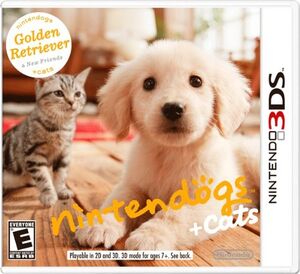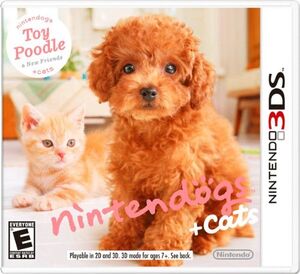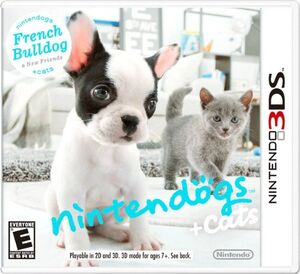 Nintendogs + Cats is a launch title for the Nintendo 3DS. It is developed by Nintendo. The game is mainly the same as previous Nintendogs titles with the exception of the newly introduced cats, as well as facial recognition software to enable the pets to recognize their owners. Also, the 3-D quality of the Nintendo 3DS will be a main new factor of the game.
The game was released on February 26, 2011 in Japan and March 27 alongisde the 3DS.
Gameplay
The game will retain much the same style of gameplay as the original Nintendogs, including various breeds of dogs and cats as well as training exercises included in the first game. In addition to touchscreen and microphone input, the game will also employ the system's camera along with facial recognition technology to interact with the player. For example, after a while, the player's pet will recognize them and will likewise greet them. However, if a new player shows up, they may react negatively. If the trainer puts their face close to the camera then the puppy will come up to the screen and lick them, they will also mimic them if they tilt their head. The 3D capabilities of the 3DS will also be utilized. The game will also use augmented reality capabilities to project the player's dog or cat onto one of the "?" AR Games cards. In addition to this, if one of the Nintendo character cards (i.e. Mario, Link, Samus, Kirby etc...) is used, the dogs will appear wearing hats, fitting the theme of their respective games. [1]
Reception
Nintendogs + Cats, like most other 3DS titles, received moderate success.
Official Nintendo Magazine gave the game an "84" for "lackluster cats and familiar pooches, but still an engaging and adorable pet sim." [2] GameSpot gave it a "75", saying "They may not win best in show, but the adorable animals of Nintendogs + Cats are sure to win your heart." [3]
IGN gave it a measly "70", stating "There's something kind of addictive about teaching your fake dog new tricks. For repeat customers, unless your kid is still playing the first game religiously, I don't see the upgraded version holding their interest for nearly as long." [4] GameInformer gave it a "65", reason being "Nintendogs + Cats definitely retains the inescapable charm of its predecessor, and I expect that will be enough for many of the younger and casual fans loved the first. For me, I expect more than marginal improvements after a six-year layoff." [5]
The game's lowest score was a "60", coming from GamesTM, who claim it "Feels very much the stock update, disappointing in so much as it doesn't actually add anything of note or substance. The cruel under-utilisation of the cats, meanwhile, could genuinely disappoint fans of felines everywhere." [6]
Images
References