Nintendo 3DS Sound allows you to listen, edit, and record music. Like the Nintendo DSi, you can use a variety of fun filters to edit with your music. You can also edit the pitch of music or recorded sound high, low, fast, and/or slow. It supports MP3 and AAC file types.
Features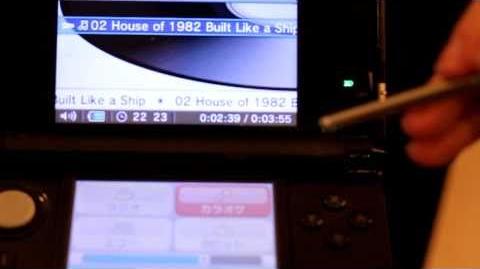 Nintendo 3DS Sound allows you record sounds (up to 10 seconds) and modify them anyway you want. Such modifications include:
Making the sound higher or deeper
Slowing or quickening the tempo of the sound
Combining various sounds files to create one long file
Players are also able to save music to the SD card bundled with the 3DS and insert that into the device, and listen to the music on Nintendo 3DS Sound, making the 3DS work almost like an MP3 player. The player can also modify the song from the SD card as they can with prerecorded sounds.
While listening to the sound, the player can modify the picture displayed alongside the playing music. These modifications can be seen in the video to the right.
There is also StreetPass enabled so when you streetpass someone who also has streetpass then you will exchange song data like the song name, artist, album, release year, and how many times you played the song.
Gallery
References