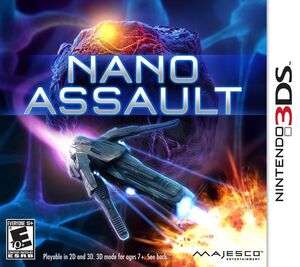 Nano Assault is a video game for the Nintendo 3DS developed by Shin'en and published by Majesco Entertainment. It was released on December 6, 2011. A re-release known as Nano Assault EX is set to be released on the Nintendo eShop in North America and Europe with new game modes and Circle Pad Pro support. [1] [2]
Gameplay
Players find, analyze, and destroy the Nanostray virus DNA with a Nanite vessel. Multiple weapons are used, such as powerful beams that lock onto enemies for instant impact, energetic bombs that explode upon impact and launch-devastating projectiles. The game has 32 stages that self-adjust in difficulty based on how you play.
The title has 10 bosses that must be defeated, which include the Black Nucleus, Hyper Blobs, and Spore Plants. "Boss Rush" allows players to fight bosses one after the other. After doing so, the player can collect secondary weapons including lightning chains, electric flashes that destroy everything in close proximity, and the quick and powerful laser. [3]
Reception
Nintendo Power gave it a 70, stating "Fortunately, Nano Assault adjusts the difficulty level depending upon how you play, which can help alleviate the frustration."
Gamers Xtreme gave the game an 8.0 out of 10, stating "Nano Assault is a great game that any fan of twin stick shooters owe themselves to check out."
Gallery
References
↑ http://www.fanbolt.com/headline/13086/Nano_Assault_re-release_coming_to_eShop,_supports_Circle_Pad_Pro!
Community content is available under
CC-BY-SA
unless otherwise noted.