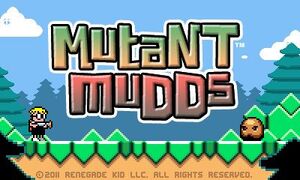 Mutant Mudds is a 2D platformer developed by Renegade Kid for release on the Nintendo eShop. The game was released on January 26, 2012 at the price of $8.99 in North America, and will be released in Europe and Australia & New Zealand on June 21 for the prices of €9 and $13.50, respectively. [1] [2]
In an interview, Jools Watsham of Renegade Kid stated that a sequel is in the works, though he couldn't offer any details. [3] He later confirmed that it would be released in 2013, and feature boss battles. [4]
Gameplay
The core mechanic in the game is the ability to travel between the foreground and the background, which adds a puzzle-element to the experience. The player character is Max, a boy with glasses and a blaster-like weapon.
Reception
The title has received positive reviews. Destructoid gave it a 90, saying "Mutant Mudds is platforming distilled to its essence. It cuts the fat in order to deliver a pure, satisfying experience. More than anything, it demonstrates that "retro" should not just be pixel graphics and chiptunes but rather a thorough understanding of the basics that made a genre popular in the first place." [5]
Nintendo World Report gave it the same score, reason being "Mutant Mudds is a top-tier eShop title, and deserves to be played by any fan of 2D platformers. Outside of the 3D effects, it doesn't do anything too radical, but it doesn't have to. Renegade Kid's first 2D platformer is a sweet, sincere effort that will remind you of the great platformers of the early '90s."
Nintendo Life also gave it a 90, stating "With its crafty level designs and unique visual style, Mutant Mudds offers up the best of both 8-bit and 16-bit worlds, all the while giving fans of the genre a classic 2D platformer. Mutant Mudds might very well be the best eShop game to date, and one no platformer fan should miss." [6] IGN gave it a 90, and said "Mutant Mudds is a fitting homage to the 8-bit era of gaming. It's got lots of personality, and though its gameplay may be a bit too simplified, the clever, challenging levels still provide plenty of good times." [7]
Gallery
Videos
References
External Links
Community content is available under
CC-BY-SA
unless otherwise noted.