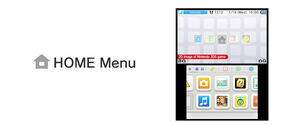 The HOME Menu is where you select which game or application you want to use. This is activated by pressing the HOME button between the Start and Select buttons.
Technical Information & Notable Features
Size
The menu holds 60 spaces to hold games and apps (excluding Game Notes, Friend List, Notifications and Internet Browser), but this increases to 120 once the default 60 is almost full. It is customizable by placement/downloading of apps and grid size. The grid size can be changed with the 2 icons between screen brightness and Game Notes. When there are 60 spaces, the ways you can have the menu set up are 1x60, 2x30, 3x20, 4x15, 5x12 and 6x10. If you have 120, they are 1x120, 2x60, 3x40, 4x30, 5x24 and 6x20.
Suspending software
Most apps/games can be suspended by pressing the earlier mentioned Home button. By doing this, you can go to Game Notes, Friend List, Notifications or Internet Browser and come back to the suspended game uninterupted. If you go to anything other than those, you must close the suspended game. Note that you can't suspend DS or DSi games.
Applications
This is a list of starting, free download, system update and upcoming apps on the Home Menu.
Game Notes
Notifications
Internet Browser
Miiverse
Health and Safety Information
Game Card software
Download Play
System Settings
Nintendo Zone Viewer (added after one enters a Best Buy, Starbucks, McDonald's, Barnes and Noble, Simon Malls or AT&T location with their 3DS in sleep mode)
Nintendo eShop (added through latest system update)
Pokédex 3D (free download, made available June 6, 2011)
Netflix (free download, made available July 14, 2011, only in North America)
Nintendo Video (free download, made available July 21, 2011)
Ambassador Certificate (free download, made available September 1, 2011, only for Nintendo 3DS Ambassadors)
Flipnote Studio 3D (free download, made available Summer 2013)
Nintendo eShop Service
Games (namely, Nintendo 3DS Download Software, 3D Classics, Virtual Console, and DSiWare, as shown below) can be downloaded through the eShop.
Nintendo 3DS Download Software
3D Classics
Virtual Console
DSiWare
References
Community content is available under
CC-BY-SA
unless otherwise noted.