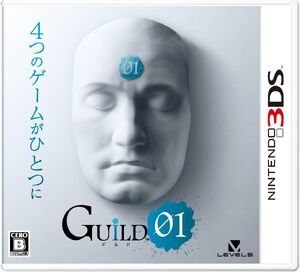 Guild01 is a video game compilation for the Nintendo 3DS. It is comprised of 4 completely distinct titles, each designed by a different video game designer. [1] [2] Published by Level-5, it was released in Japan on May 17, 2012. [3] A sequel, Guild02, is in development.
Three of the four games will be released separately on the Nintendo eShop in North America and Europe. [4] The first of these, Liberation Maiden, was released in Europe on October 4, 2012, following its announcement on a Nintendo Direct, and was later released in North America on October 25. [5] [6] Aero Porter was released November 29 in Europe and North America. [7] Crimson Shroud was released December 13 in Europe and North America. [8]
Gameplay
Liberation Maiden is a shooter game, created by Goichi Suda and developed by his company, Grasshopper Manufacture. In it, an invading country is stealing all of Japan's energy, and it is up to President Shoko, a high school girl who gained her position after her father's assassination, to board a mech named Kaihoki and reclaim it. [9]
Air Porter is a simulation game, directed by Yoot Saito. The player is in charge of an airport, and their goal is to manage baggage quickly and ensure that the airplanes are able to depart on time. If the player is successful, their airport's rating will grow, gaining them more money and passengers as well as allowing them to purchase new airplanes and expand their airport. [10]
Crimson Shroud is an adventure role-playing game, created by Yasumi Matsuno. The player is a "Chaser", someone who is an expert at searching for people. The game is set 1,000 years in the past in a world without magic, and the story details how magic became commonplace in its world.
Rental Bukiya de Omasse is a fantasy role-playing game, written by Yoshiyuki Hirai. The main characters are a father and son pair who craft weapons for heroes. The player selects weapons to allow heroes to rent; the weapon chosen will affect whether or not the hero is successful. [11]
Gallery
Videos
References
External Links
Community content is available under
CC-BY-SA
unless otherwise noted.