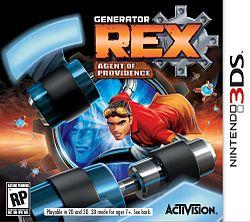 Generator Rex: Agent of Providence is an action-adventure video game based on the Generator Rex television series. Developed by Activision, the game was released October 25, 2011 in Canada, November 1 in the United States and November 18, 2011 Europe. The title is also available for Nintendo DS and Wii.
Gameplay
Rex must prevent Van Kleiss and his minions from gaining unprecedented powers that could destroy the Earth. [1] Multi-Head, Biowulf and the Heart of Aquania appear in the game, as supporting villains. [2]
Players traverse through the depths of the jungle, the deserts, and the heart of the metropolitan cities, and find blueprints of Van Kleiss' plan. A total of seven different Nanite builds for Rex such as Rex's Slam Cannon, Smackhands, Big Fat Sword, Punk Busters, Blast Caster, Bad Axes, and Funchucks are featured, the latter three being Omega Builds, only usable as special attacks when a bar is filled. [3]
Agent Six assigns missions throughout the game and, after it is beaten, one may go back and play the mission again, attempting to beat Six's high score. Additional collectibles throughout the game can be found as E.V.O. DNA samples for the main female protagonist, Doctor Holiday. A monkey E.V.O., Bobo Haha, serves as a partner in the "Rex Ride" level. Upgrades can be bought for Rex's weapons, health and Omega Builds, using "Nanites".
Reception
Gallery
References
External Links
Community content is available under
CC-BY-SA
unless otherwise noted.