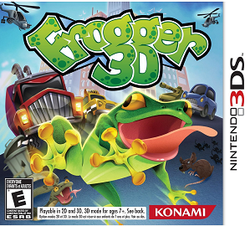 Frogger 3D is a game for Nintendo 3DS, and an installment in the Frogger series. Developed and published by Konami, the game was released September 20, 2011 in North America, September 22 in Japan, and November in Europe.
Gameplay
The gameplay is similar to the older Frogger games from older consoles with some exceptions: stages are now more varied and include new stages such as Outer Space. Larger frogs also allow for the player to destroy incoming obstacles. [1] The game also supports wireless multiplayer. [2]
Reception
Overall, Frogger 3D received mediocre critical praise. One of its highest review scores came from GamePro who gave the game a 7/10 score, saying that big fans of the series and 3DS enthusiasts will love the series. [3]
Nintendo Power Magazine said that "when the game sticks to this classic formula of quick action and quick reflexes, it's pretty fun." They gave the game an overall score of a 6.5/10. [4] Destructoid gave the game a 3.0, its worst score, and complained about the game's lack of fun and intriguing content. [5]
Gallery
References
Community content is available under
CC-BY-SA
unless otherwise noted.