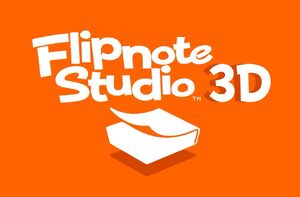 Flipnote Studio 3D is an application for the Nintendo 3DS, to be released through the Nintendo eShop. It is an updated version of Flipnote Studio, originally released for the Nintendo DSi. It was first announced in April 2011 by Shigeru Miyamoto and not mentioned again for nearly two years until it was reintroduced in a Nintendo Direct Mini. [1] [2][3]
It was released on July 24, 2013 in Japan and will be released at a to be determined date in North America and Europe. It was originally supposed to launch in the latter two territories in early August but was delayed due to its demand in Japan. [4] [5] [6]
On October 31, 2013, Nintendo disabled the app's Friend Gallery, thereby eliminating the ability for friends to exchange animations with each other, due to misuse of it by some who were using it to send inappropriate content. [7]
In January 20, 2015, Nintendo announced that Club Nintendo will discontinued in June 30, 2015, however, Flipnote Studio 3D is released in America in February 10, 2015 for Club Nintendo Members. Europe and Australia will released sometimes in 2015.
Gameplay
Like its predecessor, the app will allow users to create their own animations. New additions include more colors and the ability to make 3D imagery using three separate layers. Creations can be exported into the GIF or AVI formats, or posted to two Flipnote Galleries -- a Friends gallery, which can be used to share amongst friends for free, or a World gallery, which can be used to share with others around a world for $0.99 every 30 days after the initial 30 day trial period (though from 3:00pm to 7:00pm depending on your time settings in the settings any one will be able to use it for free also users with consistently high ratings may gain the ability to use it for free). [8] This will replace the old Flipnote Hatena service, which became defunct on May 31, 2013. [9]
Videos
References
Community content is available under
CC-BY-SA
unless otherwise noted.