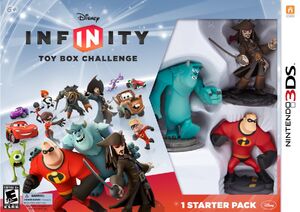 Disney Infinity: Toy Box Challenge is an upcoming party game for the Nintendo 3DS. It was revealed on January 15, 2013 in a press conference held by John Lasseter, though it had been rumored and teased to be in the works for several months before. [1] [2] Developed by Altron and published by Disney Interactive Studios, it will be released August 18, 2013 in North America and August 23 in Europe. [3] [4]
Gameplay
Players control a vast collection of characters from various Disney and Disney•Pixar properties, moving them around various game boards to compete in mini-game challenges, which include solving puzzles, racing, fighting, and collecting various items. Similarly to the Skylanders series, individual character figures can be purchased and placed on a platform which will then insert them into the game to be played. [5]
Gallery
References
External Links
Community content is available under
CC-BY-SA
unless otherwise noted.