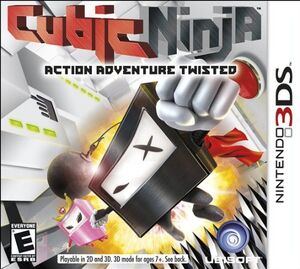 Cubic Ninja is a game for Nintendo 3DS perhaps best known for being the first 3DS that does not have the stereoscopic 3D feature, though it was later revealed that the game would only not be in 3D when motion control was in use. The game was published in America by Ubisoft.
Gameplay
The object of the game is to get the character to the finish door. The player must pass 107 levels (5 boss levels, 95 regular levels) to save a princess. 7 additional levels are unlocked after the princess is saved. The game uses the 3DS' gyroscope to control the main character, a ninja cube named CC. There is also a circle pad mode where the circle pad is usable rather than the gyroscope. In this mode, 3D is viewable.
Reception
The game has received mixed reviews. IGN gave it a 5.5/10, while the Official Nintendo Magazine of the UK gave it an 8/10..
Gallery
References
External Links
Community content is available under
CC-BY-SA
unless otherwise noted.