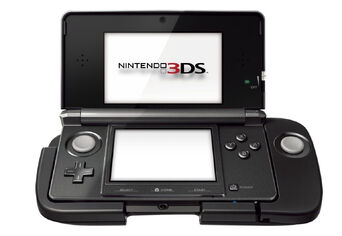 The Circle Pad Pro [1] (Known as Slide Pad Expansion in Japan) is an accessory for the Nintendo 3DS that contains a second circle pad and two additional shoulder buttons. It was released alongside Monster Hunter 3 G in Japan on December 10, 2011, and February 7, 2012 in North America, available exclusively at GameStop for a price of $19.99. [2] [3] It can be purchased in a bundle with Resident Evil: Revelations in Europe and Australia. [4]
The accessory was unveiled in an issue of Japanese magazine Famitsu, and was playable at the Nintendo 3DS Conference 2011 and subsequent Tokyo Game Show. [5] An extra-large version of the device is being sold for the Nintendo 3DS XL directly via Nintendo's own online shop. [6] [7]
Features
The Circle Pad Pro features a second slider pad and three shoulder buttons, used to give the 3DS a more controller-like grip, and to make games such as RPGs or third person shooters more similar to those on consoles control-wise. The accessory requires one AAA battery to run, though one is only included with the original sized Circle Pad Pro. Its battery life lasts for 480 hours (20 days). [8] It is also region free, which means one can use a Circle Pad Pro from another region of the world and it will still work on their 3DS, regardless of region of the system they are using. [9]
Other Notes
It's said by many developers that some of the lack of adoption of the Circle Pad Pro was the CPU overhead required to use it (5%) an example of this is the "new" 3DS having a stronger CPU and the additional buttons and analog slider working, but the CPP not working on 3DS / 3DS XL is Super Smash Brothers for Nintendo 3DS (at time of posting) [10]
Compatible Titles