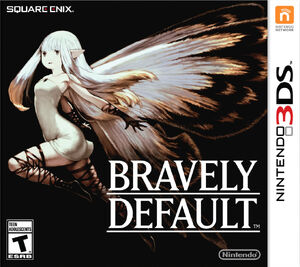 "
Have courage and renounce the promises and responsibilities that are expected of you.
"

— Producer Tomoya Asano on what the game's title means.
Bravely Default (known as Bravely Default: Flying Fairy in Japan and Bravely Default: Where the Fairy Flies in-game in the localized versions) is a role-playing game for the Nintendo 3DS. Developed by Silicon Studio and published by Square Enix, the game was released October 11, 2012 in Japan. [1] [2] [3] It was released in Europe on December 6, 2013 and in North America on February 7, 2014, published by Nintendo. [4] [5] [6] The game is considered to be the successor to the DS title Final Fantasy: The 4 Heroes of Light.
An expanded version, titled Bravely Default: For the Sequel, will be released in Japan on December 5, 2013, both as a separate retail release and as downloadable content. [7] Additions include new story events, more save slots, and a dual language option. [8] These changes are present in the North American and European version of the game. [9]
Gameplay
Players control a team of four characters, Agnès Oblige, Tiz Arrior, Edea Lee, and Ringabel. The game has a job system similar to Final Fantasy V, in which a character takes on a role such as freelancer, knight, black mage, ninja, etc., and can level up and learn new abilities. [10] The battle system consists of a turn-based system with two notable options -- Brave and Default (hence the game's title). Default allows characters to shield for a turn and gain Brave Points. When Brave is selected, those Brave Points are used to pull off an extra move per character per turn.
Reception
Famitsu gave the game a 38 out of 40. [11]
Gallery
Videos
References
External Links