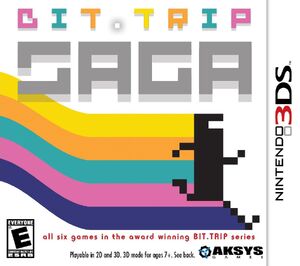 Bit.Trip Saga is a retro style music video compilation video game for the Nintendo 3DS. Developed by Gaijin Games and published by Aksys Games, the game was released on September 13, 2011 in North America and will be released on March 16, 2012 in Europe.[1] [2] [3]
Gameplay
It is a compilation of the six downloadable Bit.Trip video games released for the Wii's WiiWare service, Bit.Trip Beat, Bit.Trip Core, Bit.Trip Void, Bit.Trip Runner, Bit.Trip Fate, and Bit.Trip Flux.
All six of the Bit.Trip titles support the Nintendo 3DS' stereoscopic 3D visual effects. All of the games feature "simple graphics" and "challenging gameplay tied to a soundtrack of Atari 2600-like bleeps". [4]
Reception
The compilation has received favorable reviews. Destructoid gave it an 85, stating "Bit.Trip SAGA stands alone as a visually enhanced, portable repackaging of some of the best games of this generation of consoles. Just like Paris, Bit.Trip SAGA is for lovers." [5] GameShark gave it an 83, saying "The handheld format suits the Bit.Trip beats well, and although these games are available elsewhere the 3DS package is definitely one of the better and most concise ways to experience them regardless of a couple of omissions." [6]
IGN, GameSpot, GamePro, and Nintendo Power all give it an 80, stating "With addictive gameplay, gorgeous and creative use of 3D, and some amazing new control options, portable gaming enthusiasts have no reason to pass this title up", "Bit.Trip Saga is an engrossing compilation of six inventive games bound together by vibrant visuals and dynamic soundtracks", "Though not without its faults, Bit.Trip Saga is a third-party release that 3DS owners shouldn't miss", and "With the addition of 3D visuals, the games in handheld compilation Bit.Trip Saga are crazier than ever", respectively. [7] [8] [9]
Nintendo Life gave it a 70, reason being "The new control variations offer a fresh spin on the games, and despite looking absolutely amazing on the small screen of the 3DS, the frame rate issues do end up bringing down the overall experience a bit. Ultimately, BIT.TRIP is still one of the best gaming series to come out of this generation, but you can't help but feel that this 3DS compilation could have been much better with a little more polish." [10] One of the most critical scores was in the form of a 50 from Gaming Age, who have said "Bit.Trip Saga, the 3DS set, is certainly disappointing in that it's more of a bare bones grouping of the titles as opposed to the Wii compilation." [11]
Gallery
References
Community content is available under
CC-BY-SA
unless otherwise noted.