AR Games is an app included with the Nintendo 3DS upon release that is compatible with the AR cards bundled with the device. "AR" stands for "Augmented Reality" which is true to its name. Once placed on a surface and viewed by the 3DS per camera, one can play an assortment of games which seem to be taking place right on said surface.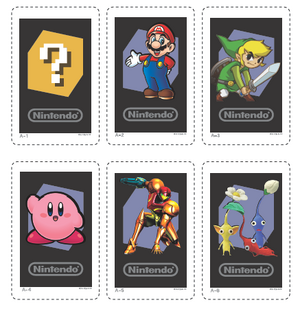 AR cards are plastic cards used to stimulate the augmented reality illusion. The "?" card is used for the games. Once the "?" card is placed on a surface and the 3DS views it, boxes then begin to surround it, 6 boxes to be exact, and the player can choose one of 6 games to play. The game usually takes place within the perimeter of the card, and if one removes the card, then the game becomes messed up and cannot play.
The other 5 character cards feature Nintendo characters Mario, Toon Link, Kirby, Samus, and Pikmin. When used in the game "Star Viewer", the characters pop out from the cards, and one can move them around in different poses and take photos with them. The "?" card can also be used to show a Mii, and one can take a photo of their Mii with the Nintendo characters. Numerous people have used this to their advantage, and print out large AR cards that they use to take photos of giant Miis.
The AR cards are bundled with the 3DS system, however, one can print out a replacement card online. It was proven that you can design your own AR card that looks like the "?" card by painting it on a computer. It is unknown if this works by drawing it.
List of Games
Games Playable at the Start
Archery
AR Shot
Fishing
Graffiti
Mii Pics
Star Pics
Unlockable
Bought in the shop after defeating the dragon in Shooting, AR Shot and Fishing. When all three dragons are defeated a purple box will appear where you can play the unlockables and buy the games with Play Coins.
Archery 2 (3 Play Coins)
AR Shot 2 (3 Play Coins)
Clock (1 Play Coin)
Globe (1 Play Coin)
Fish Gallery (1 Play Coin)
Free Fishing (3 Play Coins)
Camera (1 Play Coin)
3D Tools (1 Play Coin)
Videos
References